RAY COUNTY, Mo. – A Wood Heights driver was injured when she ran into the rear of another vehicle in Ray County Thursday.
According to the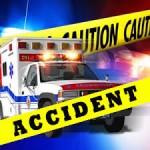 highway patrol crash report, Medina Goetz, 33, was traveling westbound behind Jeffrey Jones, 43m of Rayville, on Highway 10 at New Garden Road around 11:00 yesterday. Goetz received moderate injuries when her vehicle overtook and struck the rear of the Jones Vehicle.
Goetz was transported to Liberty Hospital for treatment.