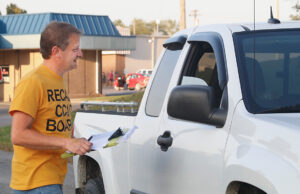 UPDATE: 10:45 p.m. Nov. 13, 2020:
After a total of 34 signatures were rejected on recall petitions for two Carroll County Ambulance District board of directors, recall organizer Dan Gawedzinki returned to Carroll County Clerk's office on Thursday, Nov. 12, with additional signatures to apparently place it on the April 6, 2021 ballot. Gawedzinki, a former CCAD paramedic, has spearheaded the effort to recall board president Caren Bittiker and secretary Dottie Standley, both representing the city of Carrollton. Carroll County Clerk Norma Sparks says she will verify the new signatures in upcoming days. The ambulance district is currently being investigated by the Missouri Department of Health and Senior Services.
CARROLLTON ( Oct. 29, 2020) — Twenty-two signatures on a petition to recall Carroll County Ambulance District President Caren Bittiker were thrown out. Twelve signatures also didn't make the cut for CCAD secretary's Dottie Standley's recall. Carroll County Clerk Norma Sparks tells KMZU disqualified signatures either didn't match what is on record in her office, were from the wrong district or from individuals who aren't registered to vote. Recall organizer Dan Gawedzinski has 20 additional days to get the required number of signatures from registered Carrollton voters to place it on the April 2021 ballot. He says he plans to go door-to-door this weekend.
The seats of Standley and Janice Miller, who represents District III in southeast Carroll, are open in 2021. If the recall petitions for Bittiker, northwest District I member Carolyn Maberry and southwest District V member Margaret Wheeler are successful, those positions would also be placed on the April 2021 ballot.  Candidacy filings begin Dec. 15 at the county clerk's office.