SEDALIA, Mo.- Bids were called and money was raised for youth Thursday at the 66th Governor's Ham Breakfast held in the Director's Tent on the Missouri State Fairgrounds.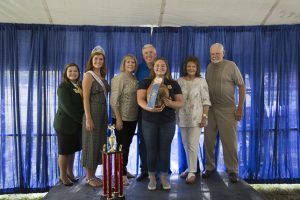 Missouri Governor Mike Parson was on hand to address guests which totaled over 1,000. Several other distinguished guests were in attendance for the Breakfast, including Missouri Director of Agriculture Chris Chinn, State Fair Director Mark Wolfe, State Fair Commissioners, State Fair Foundation members, state and local elected officials and numerous other agriculture leaders and Fair supporters. Former Senator Jim Mathewson emceed the event and Dick Hutchison auctioneered.
Hutchison led the time-honored auction of the champion hams, bacon and commemorative belt buckle. The auction began with the Grand Champion Ham, exhibited by Sarah McCord of California, Mo., The ham was purchased by Starline Brass for a record price of $16,000 and was donated to Missouri 4-H.
The Reserve Grand Champion Ham, exhibited by Deb Cary of California, Mo., was also purchased by Starline Brass and donated to Missouri FFA. The $10,000 purchase price also set a record.
The Grand Champion Bacon, exhibited by Country Meat Shop of Moberly, Mo, brought a record price of $9,000 from top buyer Starline Brass.  Starline Brass donated the bacon to the local Boy Scout Troop that assists with the Cowboy Mounted Shooting event each year at the State Fair. Lastly, the commemorative belt buckle was purchased for $2,800 by Kansas City Power and Light.
The total amount raised from the auction equaled $37,800. The funds raised from the auction and breakfast will the support Missouri State Foundation for projects, including youth in agriculture scholarships and fairgrounds improvements.