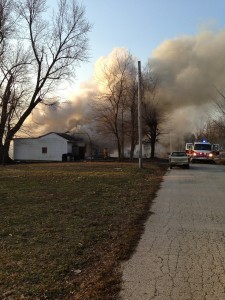 The three-member family in Carrollton that lost their home last week is receiving assistance from the American Red Cross, Heart of Missouri Chapter.  A fire destroyed the house in the 1000 block of Ruby Street on Thursday.  No injuries were reported.  The family was given financial resources to help with food, clothing, and temporary housing needs.
The official cause of the fire is not known and Carrollton Fire Chief Curtis Shields said in an interview with KMZU News on Friday that investigators could not rule out electrical problems.  The house had caught on fire on three previous occasions.  Shields added that he doubted they would ever be completely certain of what sparked the blaze.
Press Release from the American Red Cross Heart of Missouri Chapter
The American Red Cross Heart of Missouri Chapter is assisting a three-member Carrollton family after fire destroyed their home Thursday.
The home was located on N. Ruby in Carrollton.
A Red Cross volunteer met with the family Friday and provided financial resources for them to meet their immediate emergency needs with the purchase of food, clothing and a temporary motel stay.
Family members also received comfort kits, which contain personal hygiene items, and referrals to local partner agencies.
Related Stories: