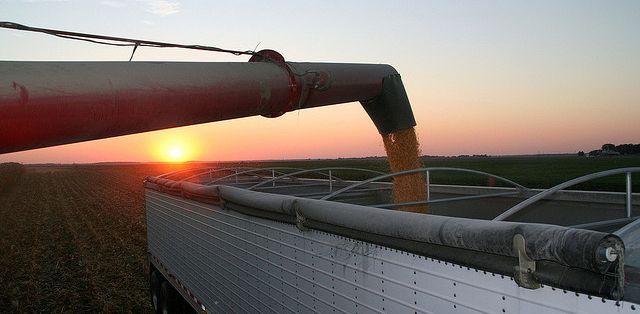 Decades ago when farmers harvested crops, the need to sell the grain to retain the value and quality caused producers to sell at the available market versus planning and marketing for a stronger profit.  Improvements in technology and storage facilities now allow farmers to store crops until the time or the price is right.  Despite improved storage opportunities however, producers could still lose the crop to unforeseen circumstances such as tornadoes or fires. 
Like any insurance policy, what is and is not covered is a discussion every farmer should have with their insurance provider. 
Jeff Adams is a district sales manager for Farm Bureau Insurance and is based in Carroll County.  According to Adams federal crop insurance or multi-peril insurance "covers the crop from the time it's planted through the time it's harvested or to the end of the insurance period, whichever comes sooner."  That means once the crop is in the bin it's no longer covered by the federal crop insurance policy. 
A crop hail insurance policy should cover an after-harvest loss but Adams says coverage typically falls under a blanket Farm Personal Property Policy. 
While those policies can likely cover the lost commodity, Adams reminds farmers to also insure the structure the grain is stored in.
He says those structures need to be listed on the policy separately "with a value agreed upon by the insurance company and the farmer."  
With the volatility in prices Adams also reminds producers that it's important to stay in touch with insurance providers to make sure the true value of the harvested crop is covered.    
To hear additional agriculture insurance tips, click below to listen to the full interview with Jeff Adams.