Click below to hear the uncut interview with Trenton Fire Chief Rick Morris: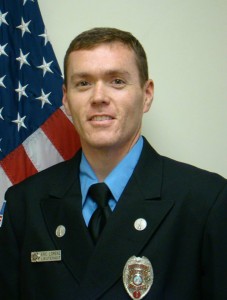 TRENTON, Mo. — Each week KMZU recognizes an outstanding citizen in the listening community. This week, we take the time to remember and honor a community member who dedicated his life to assist others.
Lieutenant Eric Lorenz, 30, was a Trenton native.
"He grew up here," Chief Morris said. "He got into scouting; he was an Eagle Scout."
From a young age, Lorenz was a community driven individual. Chief Morris was able to recall multiple times he spent his spare time volunteering for the Trenton community to better the city in which he lived.
"This young man had good morals," Chief Morris stated. "He loved the community and he did anything extra … maybe picking up trash on a certain day (or) helping the local scouting units."
It was nearly 15 years ago Lorenz pursued a new passion for his community and became a member of the Trenton Fire Department.
"The previous fire chief, he talked Eric into coming up and joining the department," Chief Morris reflected. "He realized that he liked it, and also that education was the best contribution that he could give to the department."
Lorenz believe in the continuous effort to better oneself, something he practiced in his own life. During his time with the Trenton Fire Department, Lorenz worked tirelessly to become certified in every aspect of public safety.
"He strived for furthering his education and getting national certification from the fire service," Chief Morris explained.
Lorenz's love for his community was especially evident in his involvement with the youth. Chief Morris described a natural magnetism kids seemed to have to Lorenz's personality.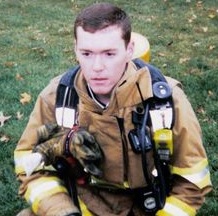 "When children come into the fire station on tours, you know, it could be daycare or it could be grade school kids, whatever age, it seemed like they all focused on him," Chief Morris said. "His attention that he could give to them … he would teach them very well, you know, and show them fire prevention in the home."
Lieutenant Eric Lorenz was a 10 year veteran with the Trenton Fire Department. He was the Department's training officer and certified CPR and EMT, continuing to work toward additional certifications.
Lorenz was a member of the water rescue team, a certified water rescue diver. According to Chief Morris, Lorenz took just about any course that was offered in the realm of public safety.
Saturday, August 1, 2015, the Trenton community came to a stand still with the shocking news of a devastating accident in Lexington. Lorenz was spending the day sky-diving when a malfunction occurred with his parachute. By Sunday, the entire community had heard of the accident and were left with disbelief and grief.
"In moments of tragedy we seamlessly come together as an emergency services family. Yesterday we were devastated to hear of the tragic loss of Lt. Eric Lorenz. Eric was a brother to us all and a mentor who led with fortitude and determination. More than that he was a devoted man of faith, a loving husband and caring father. With sadness and grief we come together as an emergency services family in this tragedy and extend our love and sympathies to Eric's wife, Rachel, his children, Lillyann and Lucas, and his entire family. We join with our community in prayers and condolences as Eric touched so many lives and left a permanent mark of spectacular service to his community. Rest easy 237, we will take it from here." – Trenton Fire Department
Members of the community responded to the news, referring to Lorenz as a "true hero" and that he made the crew "stronger."
"As I talked to the men the day of the accident when we got everybody in the station, I told everybody, 'we will honor Lieutenant Lorenz, and we will do everything we can for the family, but we still get on that truck,'" Morris said. "'We honor him by getting on that truck, and we still respond and we still protect this community and this city.'"
The memorial services for Lieutenant Lorenz were held in the gym of the Trenton High School. Chief Morris explained the turnout was a salute to the character Lorenz was.
"Well we're a small community, and when you have a funeral that fills a basket ball auditorium, and then some …" Morris said. "When we left the high school and we were driving to the cemetery, they lined the streets for well over two miles on each side of the street, holding flags. People were saluting.
"You could see the emotion that these people had. They were very sad. It probably was the largest funeral here in the city of Trenton."
Lieutenant was survived by his wife Rachael, and loving children Lillyann and Lucas. Chief Morris said it is time for the community to pay back the dedication Lorenz had, and assist the family during this time of need.
"The City of Trenton lost a son, We've probably lost one of the greatest citizens I have ever seen here. Now we focus on the wife and the family. What can we do for them? Eric contributed to this community in many ways … now it's time to pay it forward."
Lieutenant Eric Lorenz was a loving father and husband, and a cherished member of Trenton. Though he left too soon, his spirit lives on in friends, family and the community he loved.