JEFFERSON CITY, Mo— If more new moms opted to breastfeed in Missouri, it could save more lives – both theirs and their babies'. New research in the medical journal The Lancet suggests increasing the number of women who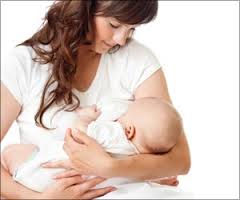 breastfeed could save 820-thousand infants and moms every year, around the world. Experts say the primary reasons are the antibodies and nourishment that only a mother's milk can provide. Michelle Devlin with the La Leche League says it's a practice that is as natural as giving birth.
"These are naturally things that are in our bodies – and the way our bodies are made to work, that we're supposed to be protecting against these things. By breastfeeding, we are keeping those benefits and letting our bodies fill their biological norm."
The report says breastfeeding could prevent about 20-thousand breast-cancer deaths a year in women. A small percentage of women are unable to breastfeed, while others report not having the support they need to do so. In Missouri, a mother can breastfeed a child in any location, public or private, and hospitals are required to give new parents information about the benefits of breastfeeding.
The World Health Organization recommends hospitals practice "rooming in" – allowing mothers and infants to remain together in the hospital. The Missouri Department of Health encourages hospitals to adopt the "Show Me 5 Initiative," which includes 'rooming in' and teaching new mothers to breastfeed. Michelle Devlin, a La Leche League leader, explains that initial bonding is key for long-term success.
"It's beneficial for babies to be with their mothers. They are able to respond to their babies' cues better, feel competent in their babies' care. And yes, it's definitely a huge help towards breastfeeding, because you have access to the baby, and the baby has access to the mother, right away."
Opponents of "rooming in" say it doesn't give the mother a chance to properly recover before bringing the baby home.