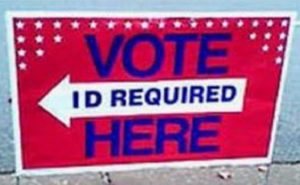 JEFFERSON CITY, MO  —  A bill being considered in the Missouri House would reinstate part of the state's voter ID law following a ruling by the state Supreme Court.
Sponsor, John Simmons, says he wants to "make sure the Supreme Court doesn't have the final say over legislation."
The high court said in January, the required affidavit was misleading and contradictory. One judge voting against the majority, Brent Powell, argued that the court should have struck down only the contradictory wording instead of the entire affidavit requirement that voters without ID swear to their identity.
Simmons' bill, given initial approval in the House Wednesday, would correct language in a portion of the law that allows the casting of a provisional ballot without ID, The voter has to return to the polling place before closing with appropriate ID for their vote to count.
Democrats tried and failed to amend the bill to allow for automatic voter registration when someone receives a state  ID.