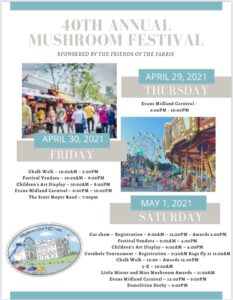 RICHMOND — The 40th Richmond Mushroom Festival returns after the coronavirus pandemic caused it to pause last year. Justin Wrisinger, a festival organizer, is excited for the return of the staple event to Richmond's history.
The festival opens April 29 and will run through May 1 downtown on the Richmond Square. Wrisigner tells KMZU what attendees can look forward to at this year's event.
Although the parade will be omitted from this year's celebration, other popular attractions will be returning, such as the carnival.
One way the festival will be different this year is the showcasing of the entertainment. Because Friends of the Farris is now sponsoring the event instead of Richmond Area Chamber of Commerce, the historic Farris Theatre's stage will be utilized throughout the weekend. Other newly added art activities are also planned.
Of course, it's not a Mushroom Festival without the titular delicacy. Wrisinger says that although there aren't any plans at this time for the largest mushroom contest, festival goers can still expect to buy morels.
On behalf of Friends of the Farris, Wrisinger expresses gratitude and excitement toward hosting the festival, and encourages attendees to utilize the historic building, especially those who have never visited.