Risk for identity theft on the rise, especially during tax season.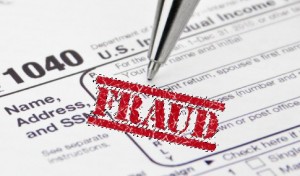 The AARP Foundation is launching a campaign to educate the public about protecting themselves against identity theft, especially during tax season.
Missouri is currently the fourth-highest in the country for identity theft complaints, and during tax season, this risk increases as scammers often pose to be with the federal government.
Tax identity theft is the result of a thief using a stolen Social Security number and other personal information to file and collect a false return. Scammers can also use a child's identity to falsely claim them as dependents on a return.
The AARP is warning about a specific tax time scam that has recently hit Missouri. Scammers have begun calling individuals, posing as Internal Revenue Service employees, demanding immediate payment on back taxes and threatening jail time.
However, according to the official IRS website, the IRS will never call to demand immediate payment without first having mailed a bill, demand payment without giving the opportunity to appeal, require specific payment methods, ask for debit or credit card numbers over the phone, or threaten to bring in local law enforcement to make an arrest.
Bob Juergens, state coordianator for the AARP Founation Tax Aide Program says one vital factor to prevent an individual becoming an identity theft victim is to make sure the person preparing the tax return is reputable.
"Know who's doing your tax return," said Juergens. "Some of these store fronts that set up, you can go in there and get things done, and they're going to be gone on April 16th, so if you have a problem, you'd have nobody to go to."
According to the Federal Trade Commission, another common mistake is failing to lock mailboxes, leaving important paperwork in an unlocked vehicle, and failing to properly destroy documents with personal information.
Juergens says mailing tax returns as early in the season as possible can prevent someone from filing with a stolen social security number. Shredding documents instead of throwing them away, and not giving out personal information unless it is for a legitimate reason are other ways to protect against identity theft.
"Be protective of it because all that's required to file a fraudulent tax return is your name, a date of birth, and a social security card," said Juergens. "If they have that information, they can make the rest of the tax return."
For more information about the AARP Foundation Tax Aide Program, visit aarp.org/taxaide.