MISSOURI — Residents of Missouri are gearing up for vacation season and as they do the Missouri Department of Conservation (MDC) is offering safety tips on how to stay bear-aware.
Many outdoor enthusiasts across the Show-Me state will be hitting the trail to the great outdoors this season. Southern portions of the state, which is where a majority of Missouri's black bears are found, have large tracts of timber that both bears and humans like to inhabit during the summer.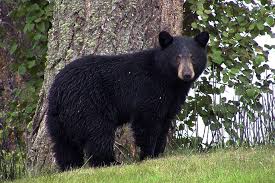 According to the Missouri Black Bear Project, bears had nearly vanished from Missouri by 1940 but began to recolonize during the 1960s following re-introductions in Arkansas. Sean Cleary, Wildlife Management Biologist for the Missouri Department of Conservation, says that black bears are occasionally found in northern parts of Missouri but the most popular place to spot them is in the southern part of the state south of I-44.
The Missouri Department of Conservation gets information about black bears from public sightings, occasional road kills, or bear shootings. They are also monitoring, surveying and collaring the females to track their movements and to see how many bears could potentially call Missouri home. The MDC estimates there are approximately 300 to 400 bears in the state.
Cleary says if you see a bear you should go to your local conservation office to report the sighting. If you are unsure where the nearest office is for your region, the department offers an online bear reporting portal.
Cleary offers the following tips for residents venturing outdoors:
Never corner a bear
If you come across a bear, back away slowly with your arms raised and speak in a calm loud voice. Don't run!
Don't turn your back on a bear
Keep a clean campsite
Raise your food and toiletries at least five feet off the ground and five feet from a neighboring tree or in a secured vehicle
Store your garbage securely and never burn or bury garbage
The Missouri Department of Conservation also says to never feed a bear.
"A fed bear is a dead bear," says Cleary. "Once you start feeding a bear, two things happen. They start losing their natural fear of humans and then they start attributing food with humans."
Click below to hear the interview that aired on KMZU.
For more information on black bears, you can visit the Missouri Department of Conservation website. You can also find more information about the Missouri Black Bear Project by clicking here.