The actions of a rodeo clown at the Missouri State Fair are creating strong media buzz.  That's after Kansas City Star editorial writer Yael T. Abouhalkah obtained a video and posted it to YouTube.  It shows the clown wearing an Obama mask while an unidentified voice asks the crowd if they want to see the President run down by a bull.  In the video, someone is heard saying: "We're going to smoke Obama! Are you ready? Obama, they're coming for you this time!"
Political figures and fair representatives are speaking out about the skit.
State Fair officials said the performance Saturday in Sedalia was "inappropriate" and "does not reflect the opinions or standards" of the fair.  "We strive to be a family friendly event and regret that Saturday's rodeo badly missed that mark," organizers wrote on a social media page.
The Jackson County Democratic Committee is also not happy with the incident. "This is not who we are in Missouri," Democratic Committee Executive Director Jessica Podhola said.
U.S. Senator Claire McCaskill (D-Mo.) also made a statement about the incident.  "The State Fair is funded by taxpayer dollars, and is supposed to be a place where we can all bring our families and celebrate the state that we love. But the young Missourians who witnessed this stunt learned exactly the wrong lesson about political discourse—that somehow it's ever acceptable to, in a public event, disrespect, taunt, and joke about harming the President of our great nation. Missouri is better than this, and I expect someone to be held accountable," Sen. McCaskill wrote.
House Minority Leader Jake Hummel (D-St. Louis) called the performance an act of "racism." He issued a statement saying: "Poking fun at our president is a time-honored tradition in this country, but the incident Saturday night at the Missouri State Fair rodeo went well beyond the line. The concept of an angry bull attempting to trample a black man for the amusement of a crowd is neither entertaining nor funny and is not the type of behavior that our taxpayer-subsidized State Fair should promote."
Assistant House Minority Leader Gail McCann Beatty (D-Kansas City) said House Democrats will be asking Speaker Tim Jones to immediately appoint an interim committee to investigate the incident and "consider whether continued taxpayer funding is appropriate for an event that allows such racist actions to occur."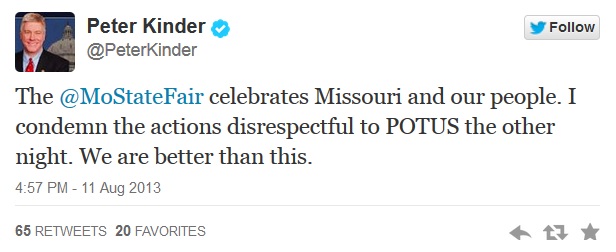 Republican Lieutenant Governor Peter Kinder denounced the performance in a tweet Sunday, calling it "disrespectful" to the president.  Kinder also called on Governor Jay Nixon to hold someone accountable.
Democratic Gov. Jay Nixon has also condemned the act.  "The Governor agrees that the performance was disrespectful and offensive, and does not reflect the values of Missourians or the State Fair," a statement from Nixon spokesman Scott Holste said.
The Missouri Rodeo Cowboy Association Board of Directors issued an apology. "The Sport of Rodeo is not meant to be a political platform. We are taking measures by training and educating our contract acts to prevent anything like this from ever happening again," a statement on the organization's website said. "All Members of the Missouri Rodeo Cowboy Association are very proud of our Country and our President."