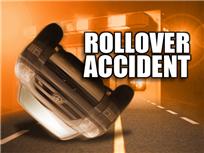 DAVIESS COUNTY, Mo. — A Hamilton resident was involved in a rollover accident this morning, resulting in serious injuries.
According to the Missouri State Highway Patrol, Harrison Lapen, 24, of Hamilton was northbound on Highway 13, one miles south of Gallatin at 1:45 this morning. The vehicle traveled off the east side of the roadway and overturned multiple times and came to rest on its top.
Lapen, who was not wearing a seat belt at the time of the accident, reported serious injuries and was transported by Daviess County Ambulance to Mosaic Life Care in St. Joseph.
The Daviess County Sheriff's Department and the Gallatin Police Department assisted the Missouri State Highway Patrol.