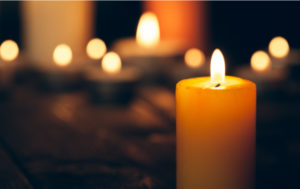 Roy Lee Oldvader, 95, of Ozark, MO, formerly of Brunswick, MO, died Thursday, October 22, 2020. Roy Lee was born January 23, 1925 in Brunswick, MO the son of Fred Herman "F.H." and Annie Fay (Hackley) Oldvader. He married Mary Beth Meyer on April 23, 1948 in Brunswick, MO and she preceded him in death on November 14, 2012.
Roy Lee was a member and deacon of the Brunswick Baptist Church. He was a dedicated Christian family man. Roy Lee was especially devoted to his wife and took exceptional care of her during her long-term illness. He enjoyed spending time with his grandchildren and great-grandchildren. Roy Lee was a lifelong farmer. The family farm was recently awarded Century Farm status. He was an avid hunter, enjoying especially goose and deer hunting. Roy Lee was a graduate of Brunswick High School, Class of 1943.
Roy Lee is survived by his sons Larry Lee Oldvader of Columbia, MO, Daryl (Norma) Oldvader of Cape Fair, MO, grandchildren Amy (Scot) Wanamaker of Conway, AR, Darin (Jennifer) Oldvader of Carl Junction, MO, great grandchildren Brooke Wanamaker, Nathan Wanamaker, Eli Wanamaker, Katherine Mary Beth Oldvader, Audrey Oldvader, numerous nieces and nephews. Roy Lee was preceded in death by his parents, wife, brothers George William Oldvader, Norris Wayne Oldvader, F.H. Oldvader, sisters Edith Marie Blunk, Agnes Wolf, and Mildred Stahl.
Graveside services are Wednesday, October 28, 2020 at 11:00 a.m. at the Elliott Grove Cemetery in Brunswick under the direction of Summerville Funeral Home in Salisbury. Memorials may be made to Brunswick Baptist Church or Elliott Grove Cemetery Association.