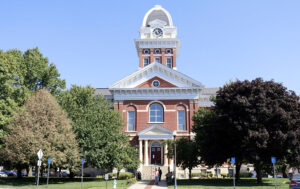 MARSHALL — Saline County Commission on Thursday approved the transfer of $768,670 from Fund 57 to Fund 58 for the annual distribution of funds to Saline County's four cities and unincorporated areas from the county half-cent sales tax for economic development. Southern Commissioner Monte Fenner says the funds will be formally distributed to those entities on Oct. 7 in the commission chambers at 9:30 a.m.
In other business:
Fenner reports the bridge on Drift Avenue, near the north end of Blind Pony Lake, has been repaired. The bridge is now open.
The commission is partnering with its engineer to coordinate land acquisition documents from four land owners for the Sweet Springs bridge.
Fenner reports the 170th Road, in the southwest part of the county, is closed indefinitely. The 100-foot long low-water crossing is no longer safe to travel. Bids for demolition will open at 9 a.m. on Oct. 26 in the commission chambers. After removal, the commission will determine how to replace it. "It is not a BRO bridge, so it will have to paid with county funds. Right now, we do not have that money for that project," Fenner says.
Final painting of the new water tower at the I-70 Marshall junction is expected to be completed by Oct. 1
Applications for all phases of Saline County CARES Act funding is due Oct. 31, according to Northern Commissioner Stephanie Gooden. Utilities are now considered part of the nonprofit segment, she says.