SALINE COUNTY, Mo. – A counsel status hearing is scheduled in Saline County today, February 10, 2016.
Chelsea D. Moore, 32, of Marshall, was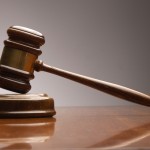 charged in January of 2016 with felony possession of a controlled substance. During her first appearance in court, she requested a public defender. At her arraignment, the public defender enter a plea on Moore's behalf, requested a bond reduction and cited a conflict of interest in the case.
Moore is expected to to appear at 9:00 a.m. this morning with her newly appointed attorney