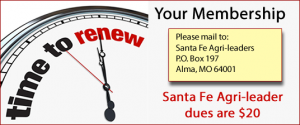 ALMA, Mo. – Santa Fe Agri-Leaders is an organization that began in 1999 in Alma, Missouri. Since it's birth, membership has grown to boast farmers from Carrollton, Waverly, Marshall, Malta Bend, and Concordia.
The original and continuing goal of the organization is to provide education to agriculturist in the area, post graduation from secondary education. Similar to a regional, adult version of the National FFA Organization.
Their mission statement is, "Moving agriculture forward." Their vision is, "Agriculture leaders providing opportunities that are regional in scope, but global in reality." The organization functions on four platforms of education, leadership, service, and networking.
The adviser for the Santa Fe Agri Leaders, Jarred Lewis, talks about the global ag symposium coming up within the organization, provided to the public.
The Agri-Leaders will be hosting a Global Ag Symposium Thursday, January 21st beginning at 1 p.m. getting underway with guest speakers and presentations and wrapping up with a key note speaker and dinner at 6 p.m.
Registration will be open and available all day, so people can come and go as they please. Registration is $15 and will cover the cost of materials and the dinner. Jarred Lewis, the adviser for the Agri-Leaders organization encourages attendees to stay as long as they can, because the presenters have a lot to offer.
The symposium will include conferences from leaders in the ag industry such as, Mike Steenhoek, the Director of the Soybean Transportation Coalition. Due to the recent flooding of the Mississippi and Missouri Rivers, his conference is expected to contain much anticipated information for local farmers. Other speakers to be highlighted are, Kevin Bradley with the Missouri Department of Agriculture and Derek Stein with the Missouri Soybean Merchandising Council.