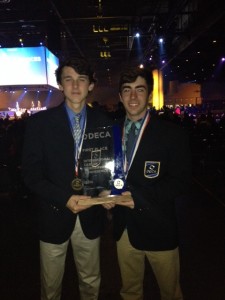 To listen to KMZU's Ashley Johnson interview first place trophy winners Isaac Barr and Alex Jones, click here.

The annual International Career Development Conference (ICDC), an international competition associated with DECA (Distributive Education Clubs of America) was held in Orlando Florida on April 24th-29th. At the event were over 18,000 students and administrators, nearly 300 of which, were representing the state of Missouri. Top 10 winners in their respective divisions receive cash awards, and top three receive additional trophies.
From the Saline County Career Center (SCCC), winning a first place trophy for Business Services Operations Research Event were students Isaac Barr and Alex Jones. A third place trophy was earned by Brianna Bellamy and Blane Carter in Entrepreneurship Promotion. A top 10 placing was gained by Jack Alsbach and Abigail Henke in a Hospitality Services Team Decision Making Event. In the Sports and Entertainment Marketing Operations Research Event, Cassi Eshleman and Roberto Hernandez placed in the top 20.
Of the seven Missouri teams that placed in the top 10, three were from SCCC. The Marshall Mo. Students, along with Marketing Teacher, Kathi Oster, and SCCC director Derek Lark, attended the competition as well as visited sites in the area, such as Universal Studios.