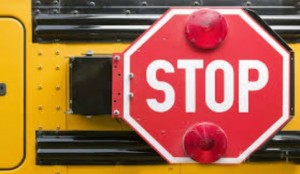 ELDON Mo. – A bus full of children was involved in an accident occuring near the intersection of Fourth and Short Streets in Eldon, Missouri.
According to the Missouri State Highway Patrol, a vehicle driven by Arthur D. Wayland, 53 of Olean was eastbound on Fourth Street during the afternoon Monday, August 31, 2015.  Wayland failed to stop his pickup truck before it struck the rear of a stationary school bus dropping off children.
Five passengers from the bus received minor injuries:  Kayla Brewer, 14 of Olean;  Nakeena Cotten, 12, of Olean;  Jayden Douglas, 14, of Eldon;  Nicholas Martin, 5, of Olean;  and Kyler Wilson, 11, of Olean.  They were taken to Lake Regional Hospital for medical care.
Wayland sustained moderate injuries in the crash.  He was treated at the scene and released.