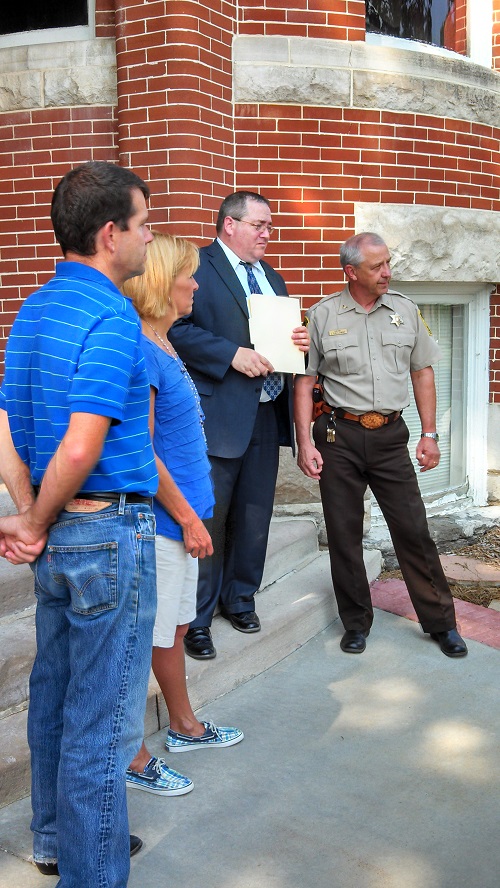 No new information has been uncovered in the search for a Caldwell County jail escapee.
Authorities held a press conference Friday afternoon in Kingston, saying they want to keep the issue in the public's mind. Click to hear audio from the press conference:
Brian Adkison Press Conference
Brian Adkison's crime spree began May when he allegedly sexually assaulted his ex-girlfriend in Boone County.  According to court documents, she obtained an order of protection the following day.  Less than one month later, Adkison, 23, allegedly stole a truck from a home north of Carrollton.  He then reportedly drove the stolen vehicle to the Hamilton area and allegedly abducted the ex-girlfriend.
Authorities say Adkison injured and terrorized her before he dropped her off at a Columbia hospital on the morning of June 16.  Adkison was finally apprehended in Morgan County after about one week on the run.  As the state was preparing their case against Adkison, he escaped from the jail in Kingston.  A statewide manhunt once again ensued.
Click to hear KMZU's Chelsea Wade speak with the victim's father, John Crawford:
Crawford's daughter is doing well, considering the circumstances. "She is trying to go about as much normal life as she can. We're trying to keep her protected at this point in time," said Crawford.
The family is asking the public to remain vigilant. "One of the things that we really want to get out there is, if anyone has a second home, a hunting cabin in the area, anything like that, he historically, in his last run, that was what he was using, was people's homes they were not occupying," said Crawford.
Adkison is facing charges in multiple counties. In Boone County, he is charged with burglary, forcible rape, and deviate sexual assault. In Caldwell County, he is charged with kidnapping, domestic assault, and violation of a protection order. He is also charged with escape from custody and damage to the jail or jail property. He faces one count of tampering with a motor vehicle in Carroll County. One count of burglary has been filed against Adkison in Morgan County.
Click to hear KMZU's Chelsea Wade speak with Caldwell County Sheriff Jerry Galloway:
Galloway says they have little idea of where Adkison may be at this point. "We have no indication as to really which direction he traveled when he left here. At the time of his escape, he was wearing just white boxer shorts, a white t-shirt. We have no indication of what clothes he may have acquired and be wearing by now," said Galloway.
Law enforcement officials are still asking the public for any information they may have. The Caldwell County Sheriff's Department can be reached at (816) 586-2751.