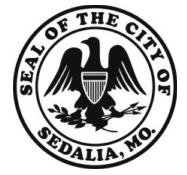 SEDALIA, Mo.– The Sedalia City Council will meet in special session today at 6:00 p.m. in the Mayor's conference room.
Council will address just one item in open session. They will consider approving and accepting an agreement with Union Pacific Railroad for mowing services.
Following the approval or rejection of this ordinance, council will hold a closed door session for legal advice on lease, sale or purchase of real estate.