UPDATE:  February 8:  The investigation of felony accusations against Garrison has led to formal charges.
Wesley Garrison was arraigned Monday, February 8, and is charged with statutory sodomy and child molestation of a girl under 14 years of age.  The allegations reportedly stem from incidents spanning the past two years.
Garrison is interred at the Pettis County Jail with a cash-only bond of $100,000.  He is awaiting a bond reduction hearing later in February.
SEDALIA, Mo. – A Sedalia man was placed on a 24 hour hold by Sedalia Police, after his arrest for three Cooper County Warrants.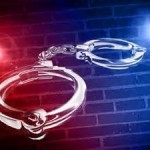 Wesley R. Garrison, 35, has a bond on the Cooper County warrants, set at only $210.0 cash. After his arrest by Sedalia Police shortly after 2:00 a.m. Saturday morning, they slapped a 24 hour hold on Garrison. They allege he committed statutory sodomy in the first degree and child molestation in the first degree.
There is no word on charges being filed.