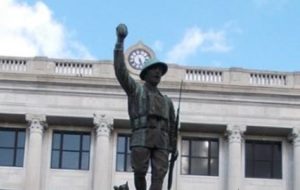 SEDALIA — Veteran groups in Sedalia and the Pettis County Commission are banding together to help repair the damage that was done to the historic World War I Doughboy statue in front of the courthouse in Sedalia.
According to previous KMZU reporting, the statue was vandalized over the Fourth of July weekend. A suspect was found, arrested and put on a 24-hour hold on July 24. According to the suspect, the damage occurred when they climbed on it and had no intentions of vandalizing the monument.
Plans for the repairs are still in the early stage. Veterans representing various groups such as American Legion and Veterans of Foreign Wars joined the Pettis County Commission meeting today to address any questions and talk logistics such as the amount of the deductible and finding someone willing to work on the statue.
The veterans have a goal to raise $25,000 to go toward repairing and refurbishing the monument. Some events that will possibly be a part of this effort are a fish fry later in the fry and collaborations with some of Sedalia's local businesses. Donations are also being accepted. A bank account has been established at Central Bank called the Pettis County Doughboy Fund.