Some story content may be graphic and may not be suitable for all audiences.
SEDALIA, Mo. – On Saturday, June 27, 2015, officers of the Sedalia Police Department responded to the 1600 Block of E. 6th St. in Sedalia after reports of a female stabbing victim. According to police records the alleged suspect was still at the scene when police dispatch called the officers.
Upon arrival the victim told police she had been attacked by her ex-boyfriend and stabbed in the face with a kitchen knife. According to records the victim told officers that her attacker was Delfino Moran Cantu, a.k.a Eric Cantu, an ex-boyfriend who was visiting her home.
Allegedly the two began to argue over the victim's relationship with another male subject. The victim was supposedly lying on a couch when Cantu stood over her and asked her if she was in love with the unnamed male. At that time the alleged assailant began pushing the victims face into the couch. The victim told investigators she was able to slap one of Cantu's hands away, she then noticed Cantu holding what was described as a large kitchen knife behind his back. The victim stated her attacker began slashing at her with the knife and she tried kicking his hand away.
Reports from Pettis County indicate the victim told police that as she stood up from the couch the attacker stabbed her in the right side of the face. Reportedly the blade broke off in her face and the victim pulled it out and threw it into the kitchen.
The victim told authorities that after the attack she tried to climb out of a window; Cantu allegedly fled in his truck shortly before officers arrived on scene. 
Sedalia Police arrived to large amounts of blood in the residence, where they found the victim. At a later date, the victim confirmed Cantu as her attacker, but could not verify his real name or age, as the victim described Cantu as an illegal alien. Cantu has since eluded law enforcement; the victim told investigators she suspects Cantu is headed to Mexico.
The victim was initially transported to Bothwell Hospital and then University Hospital in Columbia, Mo. According to documents from Pettis County the victim told investigators she suffered a broken nose, three puncture wounds to the face and three loose teeth, and would need to see a plastic surgeon. The victim stated she had a small puncture wound under her nose, just before her ear coming from the front, and a puncture wound in her cheek area that required stitching. 
According to reports, Delfino Moran Cantu, was previously booked by Johnson County Sheriff's Department on November 15th, 2012, for driving while under the influence of alcohol, operating a motor vehicle without a valid license, and failure to drive within a single lane on a roadway having three or more lanes.
According to victim reports, Delfino Moran Cantu allegedly started using the alias of Eric Cantu after the incident in Johnson County.
Cantu is currently at large and is described as being a Hispanic male, approximately 5′ 2″ weighing 140-175 pounds, with brown eyes and black hair, and possibly age 35-37.  He was last seen traveling east from Sedalia on Saturday, June 27, 2015, driving a tan/gold 2001 Chevy Silverado Extended Cab with Missouri license plate number 5UV-676. An exemplar photo is below.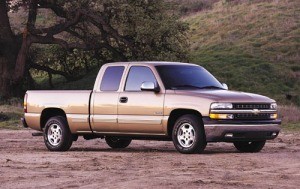 Officers have issued a warrant for Cantu's arrest. He is currently charged with 1st Degree Assault, and Armed Criminal Action. 
Anyone seeing Cantu or his vehicle, or anyone having any information related to him should immediately dial 911 or contact the nearest law enforcement agency.