UPDATE: 11:28 a.m. – The semi has been moved and 65 Hwy is now open.
UPDATE: 10:15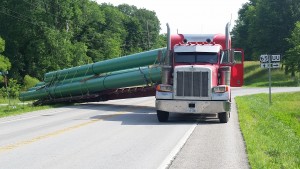 a.m.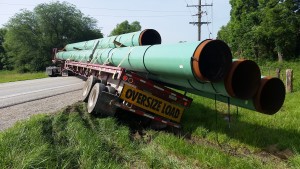 – No injuries are reported, however both lanes of the highway are expected to remain blocked for approx. an hour to an hour and a half. Southbound traffic is being rerouted down UU Hwy and Northbound traffic is being rerouted down CC Hwy.
The Driver of the Semi spoke with KMZU's Kim Nuelle and stated that he was attempting to back up across the highway and slipped into the ditch.
With delays expected to last for an extended period of time, the Carrollton Fire Department was dispatched to the area to help cool down livestock aboard semi's backed up on Hwy 65.
A KMZU listener has reported an accident just north of Carrollton on  Hwy 65.
The caller stated a Semi had ran off the roadway into the ditch at route UU off of 65 hwy. Reportedly, the trailer is blocking both south and northbound lanes of 65 and traffic is backing up quickly in that area. Injuries are unknown at the moment.
If you are in the area please use caution and allow emergency personnel plenty of space to work the scene as they will be in the roadway.
KMZU's Kim Nuelle is in route to that location and will bring you more details as they are available.