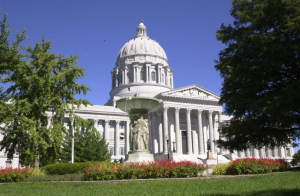 JEFFERSON CITY, Mo – Once again, Senate Joint Resolution 39 was discussed in the Missouri Legislature, this time in the House Emerging Issues Committee, which heard arguments for and against the measure Tuesday, April 12.
The proposed bill concerns itself with banning potential penalties on religious institutions which "believe or act in accordance with religious belief" concerning same sex marriage.  It would also enforce a ban on penalties for individuals who act in accordance with their beliefs.
Several large business interests in Missouri expressed dissatisfaction with the measure, including the Missouri Chamber of Commerce, and Monsanto.
Currently, there are no legal penalties in Missouri for institutions or individuals choosing to discriminate based on religious belief.  If passed by both houses, the proposition would eventually be brought to Missouri voters for ultimate approval.
Earlier discussions in March, prompted Democrat legislators to filibuster SJR 39 for a symbolic 39 hours.