WASHINGTON–The Department of Health and Human Services was blasted yesterday, February 8, 2016, by U.S. Senator Claire McCaskill for their contention that they lack legal responsibility of an unaccompanied alien child after being placed into a sponsor home.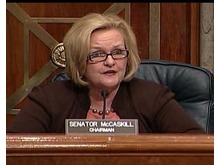 McCaskill stated quote—"The federal government's inability to protect these kids—most of whom are escaping unimaginable violence—is not only a failure of our moral obligation to protect the most vulnerable, it is also a failure of our basic legal obligation." A former prosecutor, McCaskill spoke on the legality of the subject, " I believe the agency can right some of these wrongs by monitoring these children after they're placed in sponsor homes. But the agency has refused to do so, claiming it lacks the legal authority with no justification for that claim. I am shocked, frankly, and I expect an answer immediately."
Remarks continued as the Senator recalled stories of a 16-year-old who was placed into a home with an individual claiming to be the minor's cousin. After final placement into the sponsor home, no further investigation was done.
"In fact, he was completely unrelated to her and had paid for her to come to the U.S. as a sort of mail-order bride. The minor, who had endured a sexual assault in her home country, was forced to have sex with her sponsor."
The Senator's remarks come after the DHHS failed to provide McCaskill with the legal documentation she asked to receive within one week of a bipartisan Senate hearing, a hearing which was the result of a six-month investigation into the federal government's policies and procedures for placing unaccompanied alien children with adult sponsors.