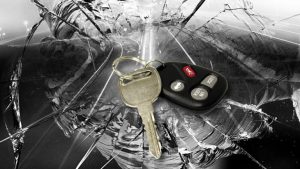 LAWSON, MO – A three vehicle crash injured several area residents from Lawson Wednesday afternoon.
A vehicle driven by Michael Neary, 27, reportedly failed to avoid hitting a stopped vehicle from behind in the roadway on Route D in Clay County. A Highway Patrol crash report says, the vehicle attempted to swerve out of the way.  The vehicle then struck another automobile head on after crossing the center line.
Occupants in that vehicle sustained serious injuries. Laken Manns, 15, and Darion McAtee, 15, were not wearing safety restraints. They were sent to Liberty Hospital by EMS. Passenger, Grace Shook, 15, reported minor injuries. Neary, and passenger Alexandria Barro, 24, were also hospitalized with moderate injuries.