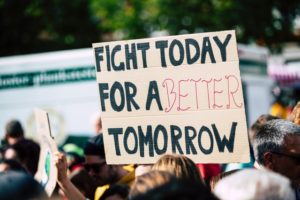 FULTON, Mo. – The Callaway County Sheriff posted a statement around noon Friday addressing residents' concerns that a protest scheduled for tomorrow may become less peaceful. A march in response to the death of George Floyd is planned Saturday evening in downtown Fulton. Sheriff Clay Chism said he has met with organizer Aleigha Turner and other community leaders who's intent is for a peaceful assembly.
The sheriff, who posted his statement on the department's Facebook page, said officers will be in downtown Fulton and at the courthouse to ensure everyone's public safety.
"I hope everyone realizes, deputies are not present to hamper any type of free speech activity. Instead and bluntly, it is to curb lawlessness by those with bad intentions, of which I have no desire to tolerate," the sheriff wrote.
"We too should not forget, many of our valued citizens – namely small business owners — have already suffered anguish the past few months due to the Covid-19 situation," he added.