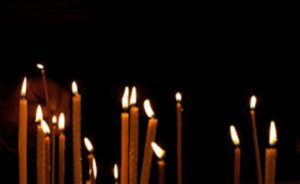 Shirley Joy Buysse, 92, of Salisbury, Missouri died Sunday, December 5, 2021 at the Arbor's at Ravenwood Terrace in Moberly, MO. Shirley was born April 14, 1929 in Webb, Iowa the daughter of Alvin and Stella (Larson) Erickson. She married Russell Arthur Buysse on April 14, 1951 at St. Patrick Catholic Church in Colona, IL.
Shirley was a graduate of Port Byron High School, Class of 1946. During High School and the early years of her marriage, she helped on the farm and worked for John Deere in Moline, IL. After several years of their farm flooding in Cleveland, IL, Russ & Shirley moved to Missouri in 1964. After the kids were of school age she went to work for First Federal Savings & Loan in Moberly. Later worked at Farmers & Merchants Bank in Huntsville which is now known as Central Bank. Shirley enjoyed attending the Bank Christmas Parties even after retirement in 1991. Shirley and Russ liked to travel and their goal to visit every state was accomplished! Shirley was a member of the St. Joseph Catholic Church and a member of the Altar Sodality. She was a member of the Clifton Hill Thursday Nighter's Club, The Extension Club and was a 4-H Leader. Shirley and Russell were members of the Moose and loved music and dancing on Saturday nights. In fact, that is how they met, at a dance at the Colosseum in Davenport, IA. Shirley enjoyed planting flowers, gardening, canning and cooking. She loved her family dearly and enjoyed preparing large meals for every holiday and birthday. Shirley made many beautiful quilts for her family and some were raffled for the St. Joseph Picnics. Shirley and Russell enjoyed going to auctions and purchasing antiques in need of repair and bringing them back to life. She had a passion for garage sales and craft shows.
Shirley was a very proud mother and grandmother and is survived by her children Monica Coffelt (David Hugill) of Raytown, MO, Ronald Buysse (JoAnn Copeland) of Raytown, MO, Lisa (Kurt) Conger of Clifton, Hill, grandchildren Shonelle (Jacob) Best, Chiera Conger, great grandchildren Lane (Cori) Best, Tristin (Maddie) Best, and Souleena Best, sister-in-law Edna Buysse, brother-in-law Lee (Mary Ann) Muller, 14 nieces and nephews. She was preceded in death by her parents, husband Russell on December 9, 2020, and sister Nancy Muller.
Visitation is Tuesday, December 14. 2021 from 4-6:00 p.m., with Rosary at 6:00 p.m. at the Summerville Funeral Home in Salisbury. Mass of Christian burial on Wednesday, December 15, 2021 at 10:00 a.m. at the St. Joseph Catholic Church. Burial will be 2:00 p.m., Wednesday, December 15, 2021 at the Missouri State Veteran Cemetery in Jacksonville, Missouri. Memorials may be made to the St. Joseph School Foundation or the Alzheimer's Association.