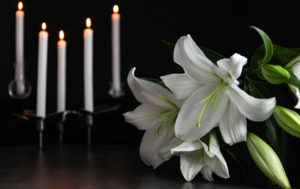 Shirley May (Roecker) Sparks, 90, of Odessa, passed away on Sunday, September 12, 2021 at her home surrounded by family.
Shirley was born on March 10, 1931, in Kansas City, MO to Leslie Roecker and Agnes (Lang) Roecker.  She graduated from Lillis High School in Kansas City, MO.  On September 1, 1956, Shirley was united in marriage to Charles Kenneth Sparks, Sr., in Kansas City, MO.  He preceded her in death.  She worked for Browns Printing Company in Kansas City, MO until it came time for her and Charles to start a family.  Shirley loved Jesus, she loved reading her bible, and prayed daily.  She was a member of the New Life Assembly of God Church in Oak Grove, MO. In addition to spending time with family and friends, she enjoyed cooking, baking and gardening.
Survivors include five children, Jeanne Sparks of Odessa, MO, Charles "Charlie" Kenneth Sparks, Jr. of Odessa, MO, Danny Sparks and wife, Happy of Bates City, MO, David Sparks and wife, Mary Lou of Blue Springs, MO, and Johnny Sparks and wife, Tamara of Odessa, MO; a son in law, Steve Watt of Oak Grove, MO; one sister, Dorothy Van Lerberg of Overland Park, KS and multiple grandchildren, great grandchildren, relatives, and friends.
In addition to her parents and husband, Shirley was preceded in death by a daughter, Cynthia "Cindy" Watt; three brothers, Leslie "Buddy" Roecker, Edward "Eddie" Roecker and John "Johnny" Roecker.
A visitation will be held from 11 a.m. to 12 p.m.  Friday, Sept. 17, at the Ralph O. Jones Funeral Home in Odessa. A funeral service will begin at 12 p.m. at the funeral home Friday, Sept. 17.  Interment will follow at Odessa Cemetery in Odessa. Memorials are suggested to Crossroads Hospice.  Memories of Shirley and condolences for her family may be left here.  Arrangements have been entrusted to Ralph O. Jones Funeral Home in Odessa.