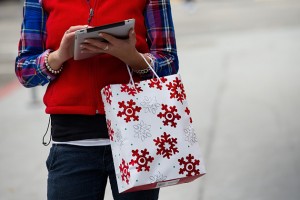 SAN FRANCISCO, Calif. — As our lives continue to grow more mobile, so do our shopping habits. This year, shopping moments are turning into shopping marathons for most on-the-go consumers.
"It's those little breaks in the day when you have something you need, and you're going on your phone and shopping for whatever that might be," said Google Industry Director April Anderson. "Because people are turning to their mobile phone at hundreds of moments throughout the day, and doing it even weeks before the holiday season began, we're starting to call it a shopping marathon."
Anderson said the 'marathon' began even before Thanksgiving weekend. Google has seen an increase in mobile research for various gifts this holiday season.
While online shopping has been a popular alternative in the past, Anderson explained this year, people are specifically completing their online shopping from mobile platforms.
"The convenience of having a smart phone at our disposal at any given time has most likely accelerated this," Anderson said. "People can turn to this phone – it's like a personal shopping assistance in your hand at all times – to really begin that research process as early as they'd like."
The convenience of a smart device allows for people to not only research various products, but where to find the best deals. This year, the Google team introduced new tools to guide online shoppers in their endeavors.
"You can check your holiday hours using Google," explained Anderson. "If you search for a business, and a major holiday is within the next seven days, you will see whether the business has a special holiday schedule."
Anderson said Google is offering consumers the opportunity to check store inventory before heading out the door. Shoppers can now use Google to determine product availability at different stores.
For those still looking for the perfect gift, Anderson said anything in the technology industry is sure to thrill.
"Smart devices are really popular this year," Anderson stated. "So smart watches, smart TV's both topped our list this year."
Whether it's a shopping moment, or a shopping marathon, Anderson reminds all customers to shop safely and enjoy the holiday season.