COLUMBIA, Mo– Extension for Community Health Care Outcomes, or project ECHO, a program which began in New Mexico in 2003, brings specialty care training to primary care clinics and physicians.
Click play below to listen to KMZU's Ashley Johnson speak with assistant professor in the Division of Gastroenterology and Hepatology, Ashraf Almashhrawi:
A little more than a year ago, the University of Missouri implemented the program within the university system, creating the Show-Me ECHO program with clinics specializing in areas such as chronic pain, diabetes and more.
Almashhrawi noted since its start 13 years ago, project ECHO has been one of the most innovative projects in the medical field.
"It's a project that we are trying to reach to the primary care clinicians and providers in their own home towns," Almashhrawi explains, "So they can treat their patients without the need for these patients to come see the specialist."
This venture has the ability, Almashhrawi says, to truly change the direction of the health care system in rural communities and areas without specialty clinics and physicians.
"We're trying to break the barrier of distance," said Almashhrawi, "And also trying to share the knowledge that has been for a while monopolized by the specialist to democratize this knowledge. Basically we're trying to share with our partners – primary care providers – our knowledge so they can provide it at their own base on their own places so we can get better outcomes for our patients."
In October of last year, MU introduced the Hepatitis C clinic due to the rise of the disease in Missouri. Approximately 7,200 new cases of hepatitis C were identified in 2015, nearly 1,700 more than in 2014.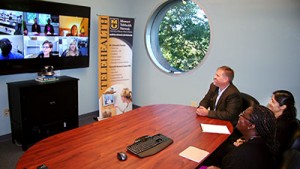 Almashhrawi says the new focus in Hepatitis C training could bring big strides in rural health care regions.
"We have contacted so far at least three clinics as we're doing it in a rate of once a week or once every other week, depending also on the participants." Almashhrawi stated, "So basically at this time, we're trying to educate our partners and the clinicians in the rural areas about this project and how to use this as a resource for them, ourselves, as well as for their patients."
Almashhrawi said the hope is, as the program progresses, interest will grow, adding some numbers to those wishing to participate, and yielding an increase in the frequency of the clinic.
Click here to learn more about the Show-Me ECHO project.
For current specialty clinics included in the program, visit the university website at medicine.missouri.edu.