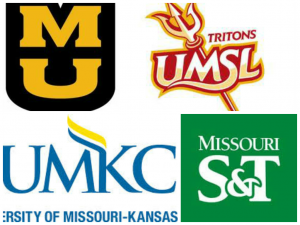 CARROLLTON, Mo. — The University of Missouri System's Show Me Value Tour is in full swing for the 2015 – 2016 academic year.
During a stop at Carrollton Middle School, President of the University of Missouri System Tim Wolfe, spoke with students about the importance of education. Wolfe says part of the tour is challenging the students to believe in their future.
"We really try to motivate them to make it their journey and make those decisions themselves," Wolfe said. "Then we challenge them at the end of the presentation to text or tweet what that step is that they're going to take today to go on to college."
The Show Me Value Tour began in 2013, and since, the feedback Wolfe has received is something he calls "outstanding." Wolfe engages with students on social media to bring the message into a realm that is more current.
"We get a lot of inspirational tweets and texts back that they've decided to go onto college, when before the conversation they thought it was beyond them," Wolfe explained. "Twitter is one form of social media that kids take advantage of, but you can also see some trending data on Twitter, like how the 7th and 8th graders in Carrollton do, in terms of tweeting, verse some of the other middle schools we talk to."
Wolfe said every stop brings a different set of students. With every school, there are new challenges, new questions, and new experiences. Wolfe said his favorite part of the tour has been helping students realize their fullest potential.
"You'll get a text or a tweet that talks about how excited they are, and how focused they're gonna be in the classroom," Wolfe stated. "That's what we do. We try to better lives through education, and when you have examples with middle schoolers when you're affecting them in a personal and productive way, there's not a better feeling, at least that I can imagine."
To hear the full interview with Tim Wolfe, President of the University of Missouri System, click play below: