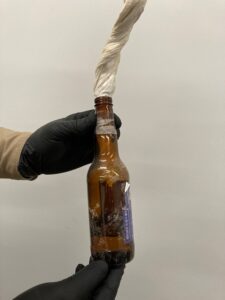 NODAWAY COUNTY, Mo. — A Skidmore woman is under arrest for threatening to burn down another person's house on Jan. 14.
The Nodaway County Sheriff's Office said in a release that the victim called after Donna Sue Lattin, 52, reportedly said she would burn the house with him inside. When deputies made contact with Lattin, they found twelve improvised explosive devices, commonly known as "Molotov cocktails." Lattin is charged with unlawful possession of an illegal weapon.
Her bond hearing at 11  a.m. Tuesday, January 26.