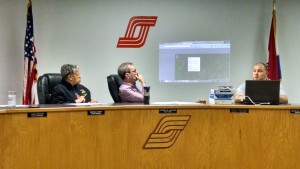 SLATER, Mo. — The Firemans Taco Dinner was a resounding success, and the t-shirts for Steve McQueen Day are in, but the primary focus of last nights' Slater City Council meeting was a presentation by Jeremy Linley from Civil Designs, Inc., highlighting the proposed work plan to repair the city's sewers.
The project was made possible through the Missouri Department of Natural Resources' Small Community Assistance Program, which provides grants to communities of fewer than ten thousand people.
Beginning in April, smoke testing of the city's sewers will help pinpoint trouble areas, determining where water is infiltrating the system by mapping where the non-toxic smoke is able to leak out – whether it's through manhole covers, yard drains, or roof downspouts. Residents will receive letters informing them of when the testing will take place in their area and what to expect during the process.
According to Linley,  residents probably won't see much of a change in their daily lives, but they should be able to see the difference in the city budget. Repairing Slater's sewers would lower operating costs for the city's pump stations.