DAVIESS COUNTY, Mo. – A slush covered road caused a three vehicle crash in Daviess County Saturday night, March 19, 2016.
According to the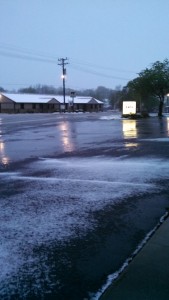 Missouri State Highway Patrol, the crash occurred on southbound Interstate 35 about two miles South of Pattonsburg, just before 11:30 last night. A vehicle driven by Ross Taggart, 25, of Overland Park, Kansas, slid into a bridge wall on the right side, struck a vehicle driven by Robert Lent, 54, of Columbia then the left side bridge wall. A third vehicle driven by Clay Nordsiek, 23, of Arenzville, Illinois, then struck the Taggart vehicle.
Taggart was transported to Cameron Regional Medical Center with moderate injuries.