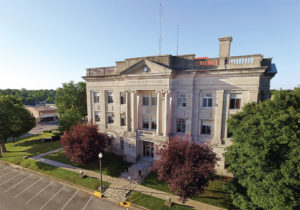 RICHMOND — $2.7 million. It's a lot of money, and most hasn't been spent yet from the federal allocation of Coronavirus Relief Fund to Ray County.
Carving out priorities – while adapting to constantly-changes protocols – is challenging, especially with rising rates of COVID-19 statewide and the unknown of what winter brings.
Ray County Commission has been clear with its funding priority: first responders, education and seniors. Richmond City Administrator Tony Willim wants to the commission to consider another category: small businesses.
"What we're trying to do is to show them from a small business standpoint what we think the information would look like, what an application would look like, how we would do the process and what the max would be," Willim says. She points to nearby cities and counties who've offered aid to small businesses weathering the impact of COVID-19.
"Anything we can do to help them out. I'm not sure that they all need it or want to apply for it, but we wanted to see if we could be in a position to where we could help them," Willim says.
At least three Richmond businesses didn't receive aid from the Payroll Protection Program, because money ran out, she says.
City and county officials appear to be in agreement to help local businesses who missed out on PPP aid. The commission recently hired grant writer Heather Hamilton George to process small business grant applications, according to Presiding Commissioner Bob King.
"We'll go over the grants they submit to us," says Western Commissioner Jerry Bishop. "Heather will go over them to make sure they fit our criteria and then we will give the cities the money to give to them. That's what we are thinking right now."
The effort will take a balanced approached.
"(Small business funding will) depend on how much money we give to the health department and other certain groups in larger amounts. We got to be sure we have enough money to do that," King says.
With around $2 million of the $2.7 million remaining, up to $405,000 could go to the Ray County Health Department, county treasurer Melissa Holloway says. A memorandum of understanding agreement with the state treasurer's office would allow counties to provide 15 percent of its coronavirus funding to health departments, in which those entities would be responsible the accounting of funds.
School districts are also requesting additional funds, Holloway says, as well as the Orrick Fire Protection District.
The process has been confusing, with at least five guidance changes, Holloway says. Calls to the state treasurer's office are promptly returned, but clear, written directives are lacking. With that, county officials are acting cautiously.
"At the end of the day when we get audited, what we should not have to do is reimburse because it didn't follow guidelines. We don't have that kind of money," Holloway says.
The state is also keeping a cautious eye on the use of funds.
"Once a month we have to report to the BKD, the CPA firm the state has fired. So, of course, we have to be diligent with our work," Holloway says.
Both King and Bishop indicate they want to use all of Ray County's portion of funding, which currently expires on Dec. 30.