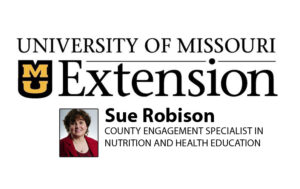 CARROLLTON — Suffering from a holiday food hangover, chronic pain or fatigue? A free six-week workshop may be a way to break bad habits and get in healthier form in 2021.
Sue Robison, a University of Missouri Extension nutritionist and health educator, will guide a 10-person group in making healthier food choices, correcting negative mindsets and coping with pain and fatigue, starting Jan. 6. Those living with diabetes, arthritis, heart disease and other chronic conditions are encouraged to join.
"What we're going to do is help you find ways to manage it," Robison says. "We'll talk about exercise, shopping for healthier food, using a nutrition facts panel — and the mental component, because sometimes our minds are our biggest obstacles. And we'll set goals to achieve this healthier lifestyle."
Exercise is an effective way to manage chronic pain, she says. Participants will given weekly goals and asked of their confidence in that goal, like walking around the block.
"The following week, they'll come back and say, 'Hey, I made my goal,' or 'I had to adjust my goal.' It's the small steps that lead to big life changes," she says.
Caregivers are also encouraged to take part in the course.
"They concentrate so much on the individual that they forget to take care of themselves," she says.
The weekly free workshop is from 1 to 3:30 p.m. each Wednesday, starting on Jan. 6.  Social distancing and masks are required.
Register by Jan. 4 by calling the YMCA at 660-542-0011 or email Robison at robisonsa@missouri.edu. The group is limited to 10 people.
Missouri Regional Arthritis Centers, Missouri Association of Area Agencies on Aging and the Carroll County Area YMCA are partners in this program.