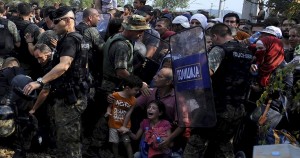 ST. LOUIS (AP) — Thousands of Syrian refugees are fleeing the Middle East, but so far, few are making their way to St. Louis.
Reports say  the St. Louis region has accepted 29 Syrian refugees so far this year. Maggie Crane, a spokeswoman for Mayor Francis Slay, says another 20 are expected by the end of the year.
The exodus of Syrians from the Middle East has accelerated in recent weeks, with Europe the predominate destination. Germany has said it could take in more than 50,000 refugees a year.