MISSOURI — Many soybean producers across Missouri that faced historic flooding were left with the decision of whether to plant a late crop or leave the field fallow.
The Missouri Soybean Association holds an annual competition, the Soybean Yield Contest, to help producers build relationships and learn from each other to produce the highest possible yields, even after monumental flooding.
KMZU's Dan Watson spoke with Greg Luce, with the Missouri Soybean Association, to find out more about the contest, some of the rules and how it helps bring not only soybean farmers, but communities together.
Click below to listen to their conversation, which aired Thursday on KMZU.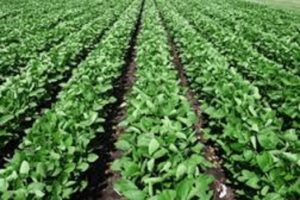 The Soybean Yield Contest has been an annual competition for the past 25 years with the goal of bringing producers together to learn from each other in order to maximize soybean yields.
". . . and the idea is just to have a friendly competition amongst farmers across the state and then see, you know, what kind of outstanding yields can be produced," Luce said, "and what growers can learn from pushing the parameters by trying to raise those higher yields."
Farmers have the opportunity to learn about different growing methods, which they can then apply to their own fields.
". . . the things that are the most critical, the things that stick, they may tend to do on the whole farm then," Luce stated.
Not only can the contest teach producers how to better manage their crops, the relationships that are created through the competition can encourage producers to push the envelope to grow a better crop year after year.
"We also see that there is some comradery built up within this and this friendly competition," Luce stated.
Soybean producers that are interested in competing in this year's contest are encouraged to contact the Missouri Soybean Association for more information.