BUCHANAN COUNTY, Mo – A St. Joseph woman is facing delivery of a controlled substance charges after attempting to smuggle drugs into the Western Reception Diagnostic Correctional Center in St. Joseph.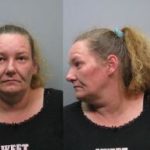 According to the Buchanan County Sheriff's Office, Dawn Leann Smith, 45, tried to conceal six small balloons full of methamphetamine in her bra in an attempt to hand drugs off to inmate, James Turner, during a visit to the prison on August 30. Smith's vehicle also contained another 20 grams of methamphetamine and 159 grams of tobacco also packaged in balloons.
Smith is facing felony delivery of a controlled substance and is currently in custody at the Buchanan County Law Enforcement Center.