UPDATE: February 6, 2016 at 11:16 p.m.: The Missouri State Highway Patrol has amended the fatality crash in Callaway County on Saturday morning, to include the death of the passenger. The modified report confirms the death of Beverly Burgess, 81, of St. Louis, who passed away at the University Hospital in Columbia.
CALLAWAY COUNTY, Mo. – The major crash investigation unit of the Missouri State Highway Patrol is investigating a fatal accident in Callaway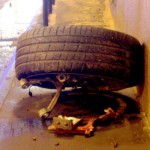 County Saturday morning.
According to the crash report, the incident occurred on Interstate 70 near Kingdom City around 10:00 a.m., when a westbound Jaguar driven by Darrell Burgess, 64, of St. Louis, drove under the cable median barrier, went airborne over an eastbound Volkswagon and struck a vehicle driven by Darion Jordan, 24, of St. Louis.
Burgess died at the scene and his passenger, Beverly Burgess, 81, of St. Louis was flown to University Hospital with serious injuries. Jordan also received serious injuries and was taken by ambulance to Columbia.