UPDATE 6/17/15 1:43 p.m: The standoff that ended peacefully with police early Tuesday evening was not Sinclair's first offense with the law. Sinclair has been previously charged on multiple felony charges, including drug violations and burglary. Unconfirmed reports indicate a similar incident occurred with police in Jackson County several years ago.
Sinclair previously received a sentence of five years for an incident in Kansas City. He was found guilty on two counts of Class B Felony Voluntary Manslaughter, two counts Felony Armed Criminal Action, and one count First Degree Burglary.
UPDATE: 7:00 p.m.  Correspondent Ashley Johnson has reported the situation is resolved, and officials have taken the man away in handcuffs. A video of the surrender has been posted online on KMZU's Facebook page.

UDPATE: 5:15 p.m.- KMZU's Kim Nuelle has reported what seems to be officers in protective gear, including face masks, have advanced on the home and deputies are conversing with the man. This has been a stand off situation since approx. 1 p.m. this afternoon when the suspect reportedly threatened suicide and harm to another person, however those accounts have not been confirmed.
UPDATE: 3:15 p.m.- A family member to the man stated the suspect is "going crazy" because of the recent death of his mother and he "can't realize it."
The Carroll County Sheriff's Office and Missouri State Highway Patrol have responded to Tina, Mo. after receiving a 911 call about a disturbed individual inside a home on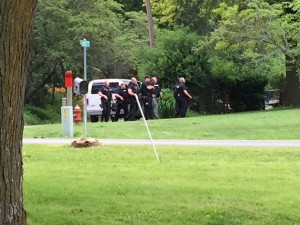 Route WW.
Reports indicate the individual is considered armed and dangerous and is making statements about not wanting to go back to prison.
A member of the community, that did not wish to be identified, said the man's mother recently passed away. He is also reportedly a convicted felon. The suspect's name has been given to KMZU News, but we will not release it until after the resolution of the situation.
The public should stay out of the area.
KMZU's Kim Nuelle is on scene and will report in periodically with new details as they become available.