ANDREW COUNTY, Mo. – An arraignment will be held today, November 10, 2015, over a shots fired incident in Andrew County.
Nathan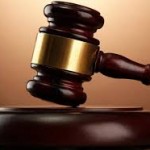 D. Stanton, 28, of St. Joseph was charged after deputies were called to a man shooting into a house in Bolckow on October 14th. Stanton faces several allegations of unlawful use of a weapon and two counts of endangering the welfare of a child.
Stanton is free after posting a $25,000 surety bond.