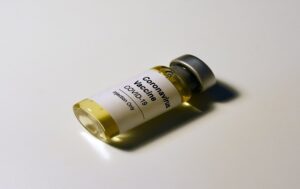 CARROLLTON — The percentage of residents being vaccinated against COVID-19 varies from county to county, according to Missouri state data. State information shows 12 percent of Chariton County residents have already received at least one dose. But next door in Caldwell County the number is nearly half at 6.9 percent. The same is true between Johnson (6.7 percent ) and Saline (15.3 percent) counties. Carroll County percentage increased in recent days to 11.1 percent, even though its health department still has not receive its first allotment. In nearby Ray, it's only 7.5 percent of residents.  Carroll County Health Department Administrator Bertie Hartwig sheds some light on the situation.
Hartwig says her department is doing all it can to help residents find vaccine who would rather not have travel to other counties to receive them.
Just recently, Hartwig and her staff just received their first dose of the vaccine. Seeing the effect of the virus, nearly all health department workers opted to take it, around 95 percent, she says. She reports no one experiencing any adverse side effects. A second dose is supposed to be available to them sometime within the week.
Hartwig wants the county to know the department is doing everything it can to get a supply of vaccine in as soon as possible and the health department is updated almost daily on the status of its order.
For those who would don't mind a little travel in order to receive the vaccine quicker, Hartwig had this to say.
The Missouri COVID-19 Vaccine Navigator can be found here.