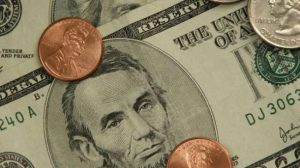 The fight to raise the minimum wage in Missouri has flared up again after a recent ruling by the Missouri Supreme Court, which says a 1998 law that prevents cities from creating their own minimum wage is unconstitutional on a procedural basis.  The law had passed along with different subject matter.  St. Louis is the only city affected by the ruling, since another state law also bars local minimum wages not in place by 8-28-15.  That is the date of the St. Louis ordinance.  A recent move by the Kansas City Council defied that law by voting 8-4 to increase the minimum wage to $13 per hour by 2023, locally.
Partly in response to this decision, legislation is moving forward in the Missouri House (HB 1194) that attempts to implement a consistent state minimum wage.   It currently stands at $7.70 per hour.  The legislation is sponsored by Jason Chipman.  He says the state's minimum wage already keeps pace with Missouri inflation and does not need to be arbitrarily set by municipalities.  Chipman says, "employers only have two choices when they have a mandated increase in payroll; raise prices, or cut costs."
Studies on the matter suggest this is true primarily of service-based jobs, where the wage-price spiral is most efficacious.  This is cited to be a potential cause of reduced employment.  However, numerous studies cite no correlation between mininum wage hikes, and employment statistics, especially regarding non-service based employers.  Those studies tend to find increased investment in employees can lead to more demand for goods and services.
Studies from the U.S Bureau of Labor Statistics, reporting in 2015, cite applicable numbers regarding minimum wage earners in service-type jobs.  Some minimum wage earners were young, with those under 25 yrs of age making up half of those making federal minimum wage or less. That age group represented roughly one fifth of all hourly workers.    Approximately, two thirds of minimum wage earners work in service occupations;  cited to be the most affected by the wage-price spiral, where employees wages, more or less, directly affect the cost of goods or services provided.
As of 2016, out of eight states with high minimum wage over 10 dollars, Washington is the only state where the cost of living does not follow pace with minimum wage hikes.  Washington's preponderance of tech jobs, which are not as susceptible to the wage-price spiral, may be one factor.