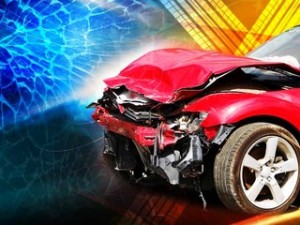 UPDATE: 6 p.m. – The suspects identified by police are ages 17 – 20.  Charges for robbery, armed criminal action, and resisting arrest were brought against, Cheyenne Mellon, Zachary Webber, and Caleb Patterson.  They were taken into custody in lieu of $150,000 bond. 
The victim of the robbery told police he was checking fluids in his car when he was assaulted by two of the suspects, who then stole the vehicle. 
KANSAS CITY, Mo. (AP) — Authorities say a car went crashing into a Kansas City building after colliding with a stolen vehicle whose driver was fleeing from police.
Capt. Cindy Cotterman says the crash happened Monday when the driver of a vehicle that had been reported stolen during a carjacking ran a stop sign. Reports say the vehicle that was hit struck a gas meter and crashed into a building near downtown that houses six apartment units upstairs as well as artist galleries and work spaces below.
Cotterman says three people inside the stolen vehicle were arrested after they were evaluated at a hospital. The driver of the vehicle that crashed into the building also was taken to a hospital.
Crews were brought in to cap the gas leak.