SEDALIA, Mo. — A major street resurfacing project began in northeast Sedalia in late May and is anticipated to be completed by September 1, 2017.
As a result beginning today (June 20) a number of North-South running streets will be milled and resurfaced.
These streets include portions of North Hurley between East Boonville and East Saline, North Hill between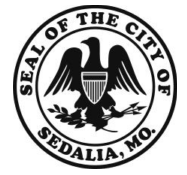 East Tower and East Boonville, North Randolph between East Saline and East Howard, and North New York between East Howard and East Tower.
Residents who routinely park along these streets will need to find alternate parking along East and West running roadways for one to two days during the initial phase of the project.
East and West running streets are anticipated to have the same procedure done to them beginning June 27th.
That includes East Jackson between North Engineer and North Heard and East Walnut between North Engineer and North Emmet.
The city asked that residents remember that the project is dependent on weather and may be delayed by rain.