As the school year comes to a close, thousands of college students will be walking across the stage to receive a hard-earned degree that will be key in opening doors of opportunity.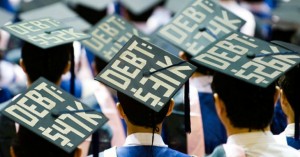 Amidst the applause and recognition, the last thing on students' minds are what they are also walking away with: the amount of loans it took to pay for that degree.
Click play below to listen to KMZU's Elizabeth Orosco visit with Marc Kantrowitz, publisher and vice president of strategy for Cappex.com, Angela Karlin, director of student financial assistance at the University of Central Missouri, and Lanie Hyatt, senior digital media productions major at the University of Central Missouri to discuss the issue of student loans.
According to Kantrowitz, publisher and vice president of strategy for Cappex.com, a free website that connects students with colleges and scholarships, 70 percent of four-year degree recipients graduate with student loan debt. The average loan debt for a student who graduated in 2015 is $35,000.
The Federal Reserve Bank of New York reports student loan debt surpassed both credit card and auto loan debt in 2009.
From a nation-wide perspective, the total student loan debt reached the trillion-dollar mark just a few years ago. Kantrowitz states that what is even more important than reaching a significant milestone marker such as this is the impact it has on individual students.
Kantrowitz explains it is possible to calculate what debt is affordable debt before entering the loan process. He also gives students a rule to live by to ensure they are able to affort to pay off their loans in a reasonable time frame.
"So long as your total student loan debt at graduation is less than your annual starting salary, you should be able to afford to repay your student loans in ten years or less," said Kantrowitz. "It's when your debt gets out of sync with your income that you'll struggle to pay off your student loans and you'll need an alternate repayment plan."
To determine how much a student is able to afford to borrow, Kantrowitz suggests dividing the student's starting annual salary by four, removing 20 percent to account for interest, and using that figure to determine the maximum amount a student can borrow per year. This will result in the student's debt being less than their starting salary, which Kantrowitz refers to as "affordable debt."
Kantrowitz states students are not receiving necessary financial aid counseling and do not understand the implications of accruing so much debt.
He gives several tips for students to decrease the amount of debt after graduation, including saving as much as possible, working part-time during school, becoming education on the alternatives available for financial assistance, and not spending refund checks on items that are not a necessity.
"Live like a student while you're in school so you don't have to live like a student after you graduate," he says.
Once graduated, students are able to apply for several repayment options, and can do so by visiting studentloans.gov.
Karlin says it is important to include the entire family on the loan-accepting decisions, and determine what is financially feasible for the parents and child.
"Students often don't have any concept of what the family can afford to help them with," she said.
Hyatt stated she was not educated on the student loan process, and is reaping the consequences of accepting loans without fully understanding future implications.
"I wish I would have known how much interest would be accruing over time without paying it off," she said. "They didn't tell me the difference between subsidized and unsubsidized loans."
Kantrowitz explains it is important to become educated on financial practices, especially for students who are carrying a heavy burden of student debt.
"If you have the opportunity to take a course in financial literacy, do so, because it will help you make smarter and more informed decisions."